Are you looking for a spectacular log home in a really great place? A horseback riding paradise that's on a hill in the countryside with a terrific view, with National Forest back country at your doorstep, yet only minutes from the city center? In a community where all homes are built to strict architectural standards that preserve and enhance the value of your property?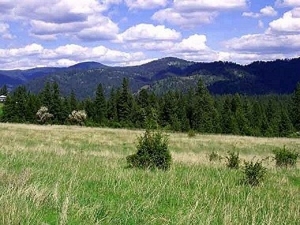 Then take a closer look at North Idaho Equestrian Ranch Estates, Coeur d'Alene, Idaho

Overlooking picturesque downtown Coeur d'Alene, located among serene countryside, set against a vast scene of mountain and lake views; these equestrian ranches will be architecturally styled with a feeling of the national parks of the west.

Each meadow and treed 5-acre parcel offers an alluring natural location to sustain a charismatic, vibrant & practical environmental community.

North Idaho Equestrian Ranch Estates - more info
As CAD software became the standard tool of trade in architecture, engineering, and design services, it became apparent by omission that rendering organic elements such as logs and heavy timbers challenged the scope of computer based programs. Log structures especially, however, demand extensive and accurate visual context. Necessity dictated that we set upon a quest to develop virtual building technology that would satisfy its demanding requirements - the creation of the Logmaker 3D CAD system was a natural step along the way to providing a quality solution.
Virtual Building provides dedicated, concise, and accurate design, engineering, analysis, documentation and visualization production via the virtual building process. Photo-realistic and programmable to individual project parameters, this technology sets the foundation for all designs and virtual production.