Are you looking for a spectacular log home in a really great place? A horseback riding paradise that's on a hill in the countryside with a terrific view, with National Forest back country at your doorstep, yet only minutes from the city center? In a community where all homes are built to strict architectural standards that preserve and enhance the value of your property?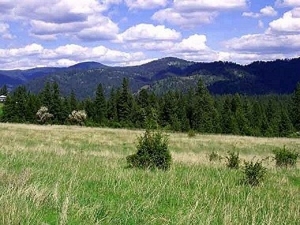 Then take a closer look at North Idaho Equestrian Ranch Estates, Coeur d'Alene, Idaho

Overlooking picturesque downtown Coeur d'Alene, located among serene countryside, set against a vast scene of mountain and lake views; these equestrian ranches will be architecturally styled with a feeling of the national parks of the west.

Each meadow and treed 5-acre parcel offers an alluring natural location to sustain a charismatic, vibrant & practical environmental community.

North Idaho Equestrian Ranch Estates - more info
Immensely popular worldwide, crossing cultural and regional boundaries, building with logs continues to flourish. Designs incorporating logs combine contemporary lifestyle, science & technology with traditional organic materials - maintaining comfort and personal expression along with the intrigue of historical continuity.
Log Home Plans, Log Cabin Plans